A Guide on How to Insulate Your Home!
SuperQuilt Insulation has supplied you with a guide on "How to Insulate Your Home", in a brochure format. The brochure provides you with insulation solutions that consider space availability, cost and installation time.
Where you have cool air entering your home, or heat energy escaping we can offer an insulation solution to counteract it. This means you can benefit from a comfortable living space 365 days a year.
Why should I Insulate my home?
Why wouldn't you want to reduce your monthly and annual outgoings?
People often underestimate the amount of money that can be saved from insulation and the upfront cost can deter people from investing – when in fact the return on your investment is significant and it pays for itself. The Express stated that heating homes accounts for a massive 70% of household energy consumption, so it makes sense to get value from what you are paying for or spend less to keep warm. To put the savings in to perspective, The Energy Savings Trust advised that by insulating a roof alone you would be looking at saving approximately £175.00 per year, in a semidetached three-bedroom home.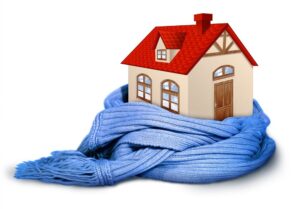 Irrespective of the motive that has led you to this page; whether it be to lessen costs, to satisfy building control or to help the environment – as the leading distributor of YBS Insulation Multifoils we can provide you with a resolution.
In our brochure you can find insulation solutions for the areas that are greatly susceptible to energy wastage, so you can start saving money on your energy bills.
See below a list of areas we have covered within our 'How to Insulate Your Home' brochure;
Roofs – Pitched Roofs (Under and Over Rafter), Flat Roofs and Conservatory Roofs.
Walls – Solid Walls and Timber Frame Walls.
Floors – Wooden, Concrete and Suspended Timber Floors.
Timber Garden Buildings.
Caravans & Motor homes.
Radiators and Convectors.
Download or View a copy of our 'How to Insulate your Home' brochure HERE!
If you do need to meet a specific U Value on your project, use our FREE and easy to use Online U Value Calculator by pressing: HERE!
Undeniably energy wastage can occur through a variety of avenues – if you are looking to insulate somewhere that we have not mentioned within our brochure, do let us know and we will be happy to help.
Equally, if you require technical advice you can call us directly or request a call back and one of our dedicated team members will call you back within the hour.
Our SuperQuilt brochure includes links to our technical data sheets which include fixing instructions as well as links to the individual product pages, to order online at the Lowest Trade Rates!
At Multifoils Direct we offer Next Working Day Delivery to the UK Mainland on all orders over £100 + Vat (when ordered before 2pm). If spending over £500 + VAT we also include a Free Heavy Duty Staple Gun and 5,000 14mm Staples – You will have everything you need to fix our high performance Multifoil Insulation materials!
trending_flatBack to News