DIY Shed Insulation Kits
DIY Shed Insulation Kits
Do you want to make the most of the space you have outside? having a well-insulated shed or garden building can give you access to this extra space all year round. There are many reasons why you might want to add insulation to your shed including:
Use as a home office
Housing for small animals or pets
Use as a crafts or art studio
Storage for items that need specific temperature care
Use as a games room or fitness studio
Here in the UK, we have bitterly cold winters and sweltering hot summers. If you are planning to store items like paint, electronics, or other products that can be susceptible to damage in these conditions, it's really important to have the space well insulated to control the temperature and humidity levels. By properly insulating a shed, you can maintain consistent temperatures and humidity levels and create a climate-controlled space where you can extend the life of your items even when they are stored for an extended period.
However, if you are looking to use your shed for more than just storage for example as a home office, you will want it to be at a more comfortable level at all times and in all weather conditions without having to use a heater for a long period. Thermal insulation is really important because extremes in weather can damage printers, computers, and paper. Another benefit is that if you're taking important business calls and don't want nosy neighbours to overhear you will need some acoustic insulation which thermal insulation offers.
Our DIY Shed Insulation Kits
Whatever your intended use for your shed is we have some solutions to convert your shed into a functional area. We have two DIY shed insulation kits to choose from. Both kits include UK-manufactured reflective foil insulation, which keeps the construction at a much more comfortable temperature. You will receive everything you need to complete the project yourself.
This is the perfect solution for turning sheds/summer houses into usable living spaces all year round. If you're looking to use your outdoor building as an office, gym, workshop, living space, or art studio we would suggest this kit is the best for this intended use. The insulation also works as a high-performing Vapour control layer so you won't have to put a vapour control layer between the shed wall and the multifoil insulation. It's equivalent to 50mm of the rigid board such as Kingspan and also to 100mm of Rockwool.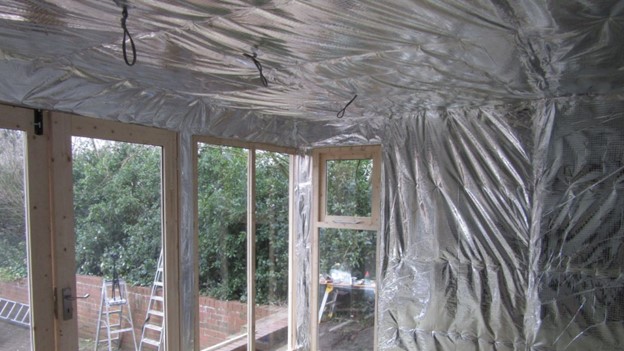 What's included in the kit?
EcoQuilt Expert 1.5 x 10m
ThermaSeal Foil Joining Tape
Heavy Duty Staple Gun Kit & 5000 Staples
Cutting Knife
Or we have the…
The EcoTec shed insulation kit is a perfect solution if you're using your outside building for storage or as a greenhouse. The insulation also creates a vapour control layer so a vapour control membrane isn't needed. It's very thin at only 4 mm and is very easy to install.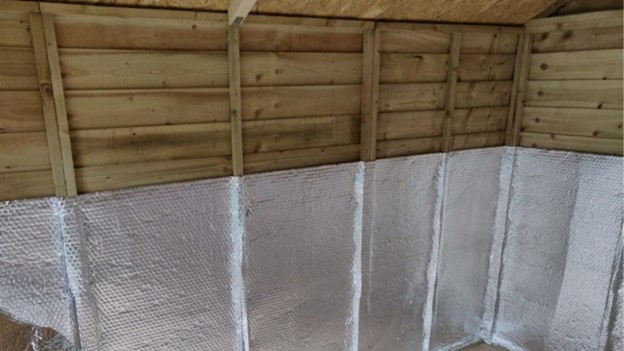 What's included in the Kit?
EcoTec Shed Insulation
ThermaSeal Foil Joining Tape
Heavy Duty Staple Gun & 5000 Staples
Cutting Knife.
Not Sure What Size Kit You Need?
We have a calculator on the product pages where you put in the measurements of your shed, this will determine which size you'd need.
You can also call us if you're struggling to figure it out and we'll help you pick the correct size for you.
Orders/Enquiries: 0333 577 0288
or request a call back HERE
Check out ourInstagramm @multifoilsdirect
We also offer next working day delivery on any orders before2 pm
trending_flatBack to News