Introducing our latest Multifoil Insulation Range – EcoQuilt45
Introducing our latest Multifoil Insulation Range – EcoQuilt45
Introducing our latest Multifoil Insulation Range – EcoQuilt45. You may have heard of multifoil, a type of insulation with a protective covering. What distinguishes multifoil from other types of insulation is that high-performance foil insulation lowers heat loss and can lower your energy costs. We are aware of how important it is to insulate our homes. Nobody wants to waste the heat in their homes, especially with the cost of domestic energy bills on the rise and the effect of climate change a concern for many. Insulation made of multiple foils assists in retaining heat in your home additionally, it serves a function during the summer by keeping your house cool by preventing too much heat from entering. This should result in relying on fans a lot less to cool you down during the warmer months.
Is it Appropriate for Your Project to Install Multifoil Insulation in Your Home?
Multifoil insulation explained…
To put it simply, multifoil is an insulation material composed of wadding and foil. Multifoil insulation can be applied to older buildings, it's frequently used during the construction process of newbuilds. It is very easy to install yourself, and more energy efficient than many other conventional types. Multifoil has a variety of beneficial characteristics, including;
Heat is reflected by the foil layer, which will prevent it from escaping the structure.
Useful alone or alongside other coverings.
Vapor control by preventing the insulation from becoming moist, it can continue to function.
Because it's thinner than standard insulation, it can be used in multiple areas such as walls, floors, or ceilings.
Our Range of Multifoil Insulation
Here at Multifoils Direct, we have a wide range of high performing EcoQuilt Multifoil Insulation products that are perfect for effectively insulating:
Roofs – Pitched Under rafter / loft floor
Floors – concrete and timber
Walls – solid and cavity
Conservatories
Garden Buildings
Timber frame walls
Summer houses
Caravans
Containers
Check out the newest addition to our multifoil insulation range, EcoQuilt45 which is the equivalent of using around 10cm of Glass Wool or 5cm of Rigid Board. EcoQuilt45 compresses down to 7mm when installed however in it's open-state it's 4.5cm thick. With a built in vapour-control layer, EcoQuilt45 effectively stops any risk of condensation forming additionally when sealed and taped with out Thermal Foil Joining Tape it will increase the performance of the vapour control layer.
EcoQuilt45 is a very flexible, easy to install, multilayer insulation that offers great thermal benefits. You don't need any specific PPE during the installation process EcoQuilt45 as theres no harmful fibers. You will have on labor time as theres no sawing involved, simply you cut it with a sharp blade or scissors.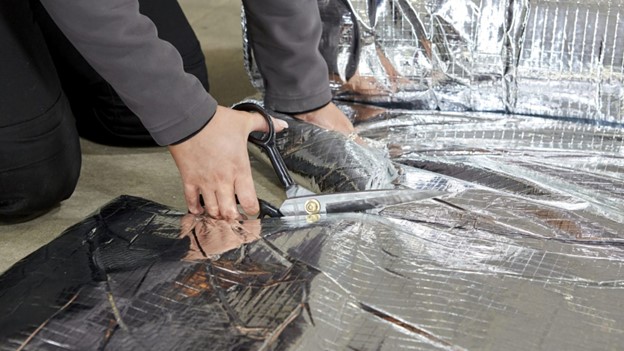 This product is an advanced version of our EcoQuilt Expert  which is the most popular product within our Multifoil Insulation range. EcoQuilt45 has been designed, developed, and manufactured to be even more energy efficient.
Performance wise, it equates to 70mm of PIR. Which means this product will save you money and space compared to PIR.
EcoQuilt45 vs SF19+
How does EcoQuilt45 compare to other products on the market? EcoQuilt45 is Uk manufactured and SF19+ is an import from China. However SF19+  has recently lost its BBA certificate. It was clamied that SF19+ had an R-Value of 1.63 although it was discovered during testing that its R-Value is actually 1.27 comparatively EcoQuil45 has an R-Value of 1.29.
Order and Delivery
We offer next day delivery nationwide on all products including EcoQuilt45 to the UK mainland.
Order before 2pm Monday- Friday and recieve next working day delivery alternatively orders placed after 2pm Friday recieve the following Tuesday (UK mainland)
Get in touch with our Insulation Experts 
trending_flatBack to News