EcoTec Duct Insulation Kit – for all HVAC Systems
EcoTec Duct Insulation Kit – for all HVAC Systems. You may not be familiar with the word ductwork but you will have seen it in action. Ductwork is simply a system of pipes and ducts that help pass heated or cooled air through different parts of a property to make the temperature more comfortable. It's more commonly referred to as an HVAC System which stands for Heating, Ventilation, and Air Conditioning.

Does Ductwork need to be insulated?
Yes, it's important to insulate your ductwork!
Insulation allows air to pass through the HVAC system without heating or cooling on its travels. If ductwork isn't correctly insulated you can lose up to 30% of the energy used to maintain a comfortable indoor temperature. With this loss of energy, your heating and AC unit will be working even harder which causes unnecessary wear and tear. It can also prevent any air leaks, air leaks can quickly affect the temperature inside the HVAC system. By installing high-quality ductwork insulation you will;
Save money
Protect the environment
Avoid problems with air leaks
Temperature drops
Condensation buildup
This is why we've created the EcoTec Duct Insulation Kit. It's perfect for both homeowners and business owners it's available in 2 different-sized rolls. The kit also contains everything needed to ensure any exposed ductwork will be as energy efficient as possible.
The main purpose of the Kit:
Improve the Quality of the Air – by reducing contamination.
Prolong the lifespan of the heating system, by reducing stress from leaks and temperature drops.
Improve Energy Efficiency: Ensures the air transported is consistent so can reduce the amount of energy needed to heat/cool a property.
Prevent Condensation- stops cold air from coming into contact with the warm ducting and vice versa, depending on the purpose.
The EcoTec Duct Insulation Kit is an affordable way to insulate any exposed ductwork regardless of whether they're inside or outside the building. Your heating and cooling system's efficiency will massively improve after installation. Because the insulation is reflective it will prevent temperature swings. The insulation uses True Aluminium Foil sandwiched between a double layer of bubble membranes filled with air. It's also only 4mm thick which makes it ideal for confined locations.
The Key Features
Lightweight and Flexible
Highly Reflective True Aluminium Foil
Suitable to Insulate a range of shapes
Easy to Install
Increases Energy Efficiency
Reduces Expenditure on Energy
Reduces the Risk of Condensation
Protects against noise
UK Manufactured
Insulating Air Bubble Membrane
Long Lasting Adhesive Tape Supplied
PLUS the kit is so easy to set up that a professional installation is unnecessary and because it lacks irritating or dangerous fibers, no protective gear is required during installation.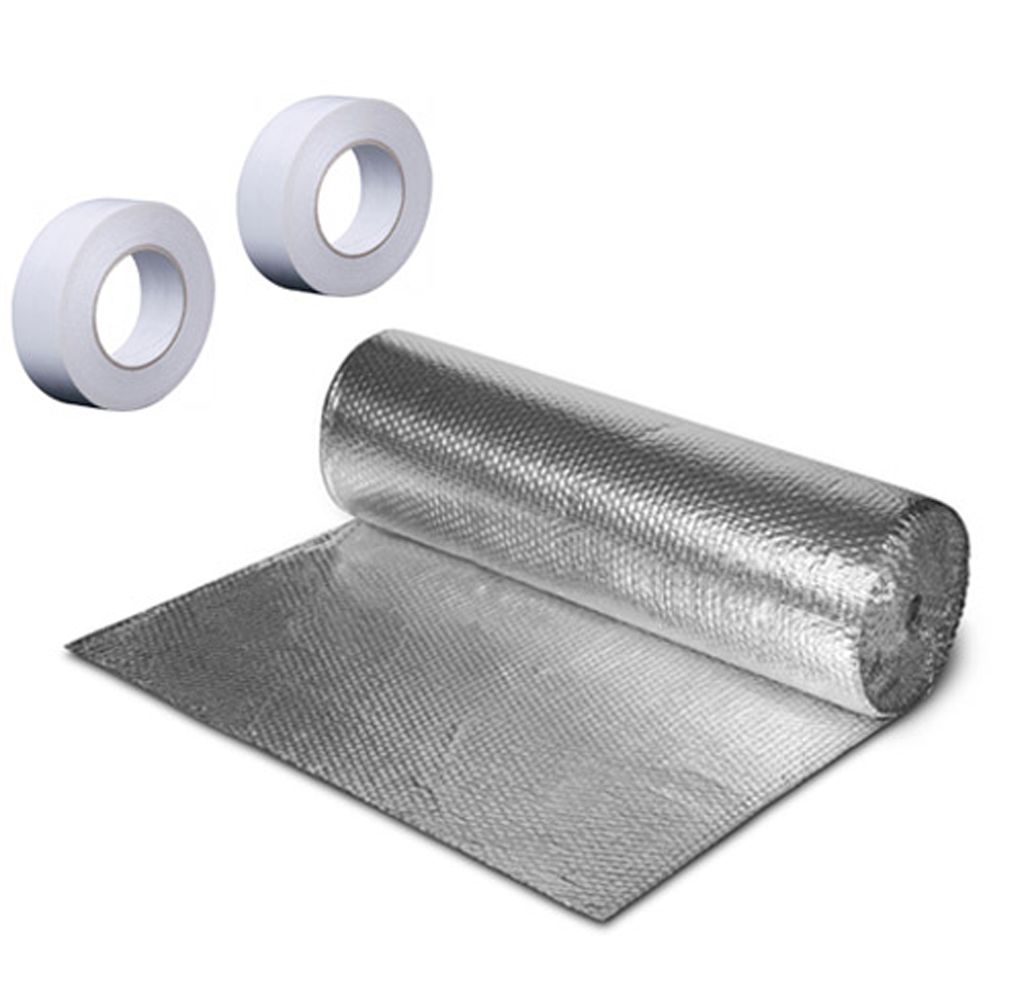 What's included in the EcoTec Ducting Insulation Kit?
This kit comes in two different sizes for all project types:
400mm x 15m roll of insulation and one roll of ThermaSeal Double Sided Tape 50mm x 33mm
1200mm x 25m roll of insulation and two rolls of ThermaSeal Double Sided Tape 50mm x 33mm
Where is this manufactured?
It is manufactured an hour away from our distribution unit here in the UK.
What is its R-Value?
R-Value up to 1.46 m²K/W which is equivalent to 65mm of mineral fiber insulation even though it's only 4mm thick.
Delivery information
EcoTec Duct Insulation Kit – for all HVAC Systems
Any orders placed before 2 pm can receive next-day delivery or you can select a chosen day at the checkout. (UK Mainland)
Any orders placed after 2 pm on Friday and over the weekend will be dispatched Monday and delivered Tuesday.
Contact Information
To get in contact with a member of the team call us on 0333 577 0288 or you can also request a call back here.
trending_flatBack to News