SuperQuilt Dry Lining | YBS SuperQuilt
SuperQuilt Dry Lining
YBS SuperQuilt Insulation is the ideal solution for insulating the internal of solid brickwork and concrete block walls.
It is fully certified for the use in dry linings, SuperQuilt also often achieves refurbishment regulations, without additional insulation.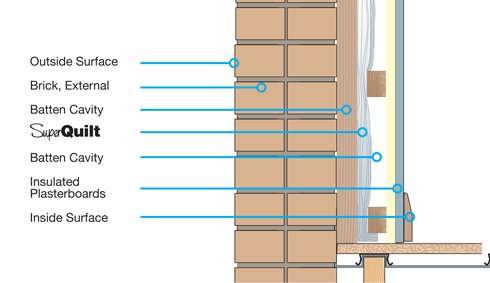 How To Install
First, install timber battens directly on to the wall. Leave an approximate spacing's of 500mm between each batten.
You should also create a batten framework around the perimeter of the windows and doors too.
Dependent on the depth of the batten may effect the U-value achieved, feel free to check this on our U Value Calculator – which will advise what you need specifically.
When using SuperQuilt Insulation for Dry Lining, you should then staple the SuperQuilt Multifoil directly on the the battens.
You can install the SuperQuilt either vertically or horizontally – whichever way is preferred – just ensure that you keep the insulation a continuous layer.
Ensure that you overlap each layer of SuperQuilt by 50mm. You can follow by then using the Thermaseal Foil Joining Tape, to seal around all of the edges (perimeter and also over the joints too). This will then create a high performing vapour control layer. This means you do not need to purchase any separate vapour control layer, and you will have prevented the risk of condensation.
You should then install counter timber battens. These should be installed perpendicular to the first set, at an approx spacing of 500mm. This will mean you are effectively sandwiching SuperQuilt between the set of battens. The plasterboard or other internal finish should be installed in it's usual manner.
U – Values
Bespoke U-value required? Please visit our trusted distributors website and use our free and instant online U-value Calculator. Alternatively you can request a U-value calculation from our technical team at the Contact Us page.
If you are wanting to insulate on the external of a solid brick, block or concrete wall as opposed to the internal, please visit our External Wall Insulation page.
Installation of SuperQuilt Dry Lining should be in harmony with the manufacturers certificate and recommendations.
If you are wanting to insulate your solid walls however do not need to conform with current building regulations, take a look at our EcoQuilt Expert Multifoil Insulation. EcoQuilt Expert is installed in the same way as YBS SuperQuilt however is a thinner multifoil saving approx £1.90 per m².