SuperQuilt Flat Roof | YBS SuperQuilt
SuperQuilt Flat Roof
Are you wanting to insulate your flat roof? If so, look no further. Our YBS SuperQuilt is certified (LABC and BDA) for the use of Flat Roof Project. The SuperQuilt is certified for both the internal and external of the joists, depending on if a cold or warm roof detail is desired.
A warm roof detail is where the insulation is external, a cold roof detail is where the insulation is internally.
It is most common for the SuperQuilt to be stapled internally before the plasterboard. The SuperQuilt will take up very little space and also cost compared to alternatives.
Please see below diagrams;
Diagram 1 – 2 Layer SuperQuilt Detail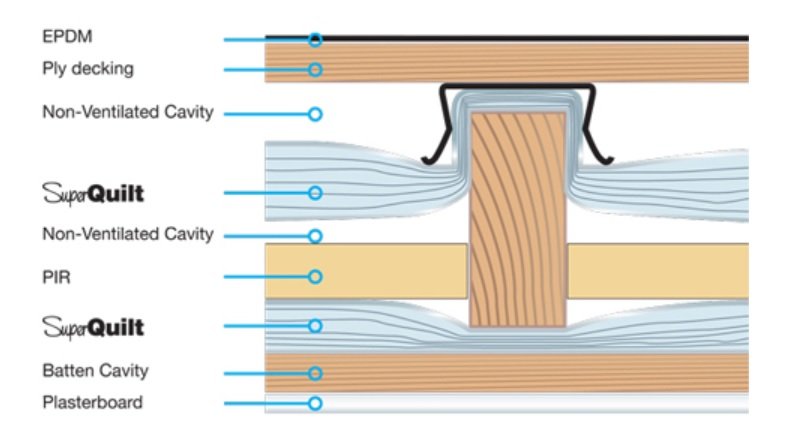 Diagram 2 – 1 Layer SuperQuilt Warm Roof Detail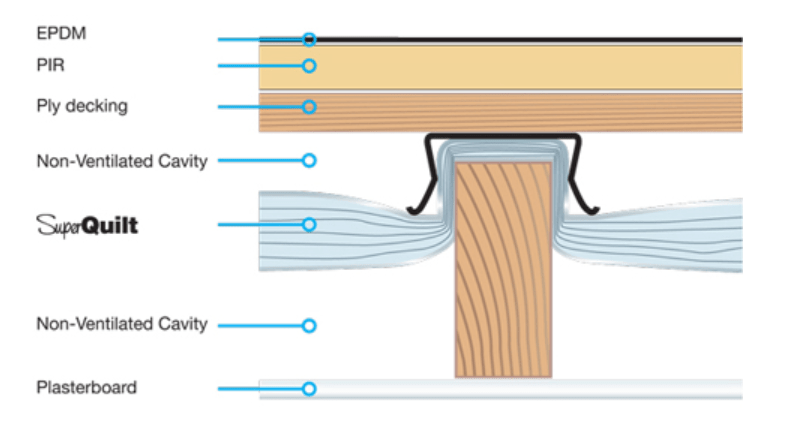 SuperQuilt Flat Roof | YBS SuperQuilt is commonly used in a double layer application to avoid/reduce the amount of Rigid PIR required. If a double solution solution is being used, please ensure there are adequate airspace's between each layer. If SuperQuilt is being installed internally, with no insulation on the external of the joists, ensure there is a 50mm clear ventilated cavity.
If you require further advise on if ventilation is required in your flat roof project, please click visit the contact us page and our tech team will provide assistance.
How to Install
YBS SuperQuilt is applied either vertically or horizontally, pulled tight and stapled to timber joists at minimum 300mm centres.
Ensure an overlap by approx 50mm. Ensure that you fully tape and seal using Thermaseal Foil Joining Tape. This will ensure SuperQuilt works as a high performing vapour control layer (If it is the most internal insulation layer)
You need to ensure that you have an air space either side of your product. This can be created by the use of battens or by a cavity within the joists.
If you do not create the air cavity either side of the SuperQuilt Insulation – it will reduce the insulations performance and in turn can negatively impact the u-value.
Specific U-value required for the project? Visit our free to use online U-value Calculator to find the best solution on your project.
Installation of YBS SuperQuilt over joist or under joist or double layer should be in harmony with the manufacturers certificate and recommendations.
If you have any questions at all, don't hesitate to get in touch!