SuperQuilt Re-Roofing Systems
SuperQuilt Re-Roofing Systems
YBS SuperQuilt and YBS BreatherQuilt are fully LABC & BDA certified products to be used in re-roofing systems.
Our multifoil insulation solutions can assist in achieving U-values. We can meet your u value required, for both new build properties and refurbishment / extension projects.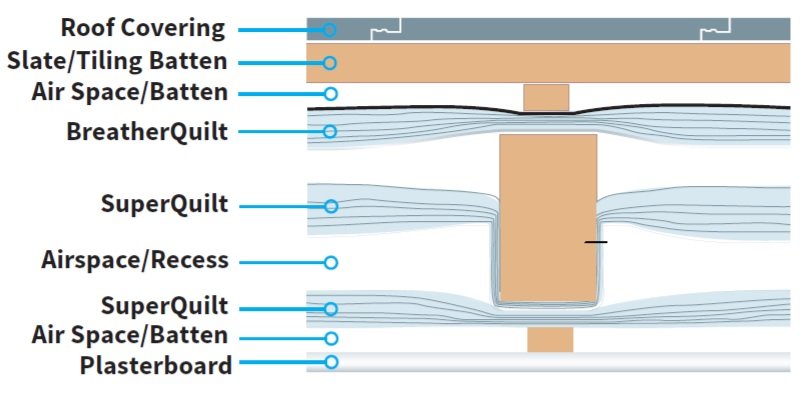 This Re-Roofing Systems often start with YBS BreatherQuilt stapled onto the external of the rafters. BreatherQuilt is a two in one material; it has a built-in breather membrane – so there is no need for an additional breathable felt on the rafters. It also has thermal benefits too which helps you to achieve a u value.
You Install BreatherQuilt by rolling out the multifoil at the bottom of the rafters first. Staple at 300mm intervals (this is the max spacing advised). Once the first layer has been installed, you can repeat this process with the second layer by ensuring that there is a horizontal overlap of 100mm minimum. Breatherquilt has a build in Thermaseal Double Sided Tape  so ensure this is sealed when you have overlapped by 100mm.
Dependent on the cavity below the BreatherQuilt would determine if a counter batten before the tile batten is required. If the cavity is less than 50mm a additional batten on the rafters is usually required. If you do already have a 50mm clear gap, then YBS BreatherQuilt can be draped into the rafters/battens, with a single tile batten used.
YBS SuperQuilt is then installed on the internal on our systems in the usual method, for further technical information on SuperQuilt please click here. Or, you can view this How to Video – which demonstrates the application in full.
The product used in between the rafters – depends on the u-value required for the pitched roof. Below are the two complete solutions supplied by us here at Multifoils Direct.
If a lower U-value is required – there is a solutions available using Rigid PIR Boards alongside our Multifoil Insulation products. You can view the U-value table to the right to find more info.
Or, for bespoke U-value calculations please visit our online U-value calculator on our trusted distributor's website. You can also Contact Us and we can speak through your specific application.