YBS SuperQuilt Conservatory Roof
YBS SuperQuilt Conservatory Roof
Conservatory Roof Insulation is a very popular application. Simply because it is an area that is very susceptible to significant fluctuations.
YBS SuperQuilt Multifoil Insulation is frequently installed on the underside of the internal of conservatory roofs. Multifoil Insulation products, such as SuperQuilt & EcoQuilt Expert will help retain 98% of radiant energy – compared to if there was no insulation barrier and just the existing glass/polycarbonate roof.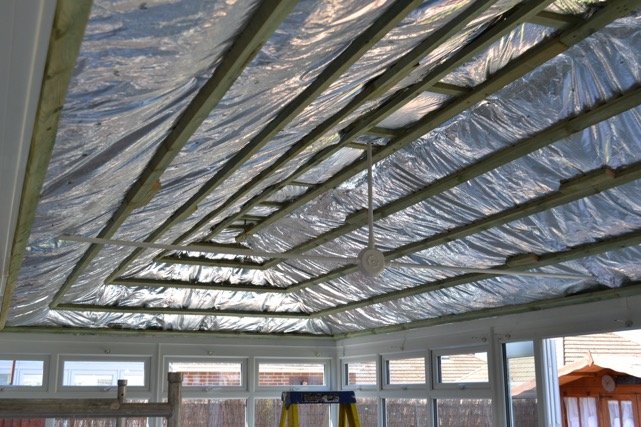 YBS SuperQuilt Conservatory Roof | SuperQuilt is most commonly fitted to polycarb roofs, by firstly installing battens directly onto the PVC rafters. These are installed by using our FastFix Conservatory Screws. Once fixed, the multifoil insulation can be stapled (either YBS SuperQuilt or EcoQuilt Expert). This is fixed directly on the battens, you should ensure the multifoil insulation is fully taped and sealed using Thermaseal Foil Joining Tape.
Ensuring the product is fully taped and sealed. This will therefore ensure that the multi-layered blanket will work as a high performance vapour control layer, reducing the potential risk of condensation.
Once the multifoil has been installed, then you should install counter battens – these require a minimum depth of 25mm. This will enable the  internal finish to be installed, this is most often a lightweight plasterboard or cladding.
Creating an airspace, usually by timber battens, is vital when insulating with multi-layered blankets such as SuperQuilt and EcoQuilt. Without the cavity's the product are unable to effectively reflect. This will reduce the performance of the product.
SuperQuilt and EcoQuilt Expert will effectively create a more ambient (average) temperature throughout the year. It will keep the area cooler in the summers months, aswell as keeping it warmer in winter months. It will be 100% usable rather than an avoided space.
EcoQuilt Expert is a 15mm, 6 Layer Multifoil Insulation. It has been designed by Ecohome Insulation. EcoQuilt is a cost effective solution to SuperQuilt, for when achieving building regulations are not required.
Purchase our conservatory insulation kits with fast next working day delivery HERE.