EcoPro Garage & Workshop Insulation Kit
expand_circle_down Description
Fully Insulate Your Garage or Workshop
Multifoils Direct's EcoPro Garage & Workshop Insulation Kit is a high-performing, easy-to-install insulation solution.
The Garage Insulation Kit has been designed to enable you to insulate your garage cost-effectively. When installed, you'll be able to enjoy a dry space, which has ambient temperature all year round.
EcoPro Garage & Workshop Insulation Kit when taped and sealed with our Thermaseal Foil Joining Tape (Included) will also help to reduce any potential risk of condensation due to having a build in Vapour Control Layer.
What's in the Kit Garage Insulation Kit?
You have the option to decide between our standard Roof & Wall Insulation Kit you can also insulate the Floor too.
Roof and Wall EcoPro Garage & Workshop Insulation Kit
Due to its low emissivity outer layers, our EcoPro works by reflecting away unwanted heat in the summer months. It also effectively retains radiant heat and energy in the winter months. It is made up of 6 layers and is just 15mm thick and compresses to 7mm when installed. The multifoil can be easily stapled onto timber rafters or stud work. 1 Layer of EcoQuilt equates to approx 50mm Rigid PIR Insulation such as Kingspan or Celotex!
If you would like to insulate the floor – you would receive;
EcoTec FloorFoam is a 4mm dense foam membrane. It can be fixed down on the concrete with Thermaseal Double Sided. This material prevents cold bridging as well as dampness. You may also opt to use Interlocking foam tiles / other flooring that can be installed over FloorFoam.
Want to order by phone? Use our Call Me Back request now, and our team will call you within the hour! (Monday-Friday before 5 pm)
Delivery Schedule
All orders placed Monday – Friday before 2 pm are dispatched on a next working day service. Orders placed over the weekend are delivered Tuesdays.
FREE GIFT
Spend £500 + VAT and Choose a FREE GIFT at the checkout!
Free Gifts Include Thermaseal Foil Joining Tape, Heavy Duty Staple Gun Kit, Multifoil Insulation Scissors, or Thermaseal Double Sided Tape.
expand_circle_down How-To Videos
How To Convert your Garage Into a Workshop
expand_circle_down How-To Guides
How to Insulate a Concrete Floor
Rolling out FloorFoam

Start by rolling out FloorFoam Insulation either vertically or horizontally on the concrete floor. EcoTec FloorFoam can then easily be cut by using Multifoil Scissors or a Cutting Knife - Both available in our Fitting Kit.

Fixing Down FloorFoam

FloorFoam is fixed onto concrete floors by using Thermaseal Double Sided Tape, or Non-Solvent Glue. Ensure FloorFoam Insulation is fully taped and sealed on butt joints on the floor. Also tape FloorFoam around the perimeter.(Thermaseal Foil Tape is provided free of charge in kit). Taping and sealing ensures no draught or moisture can rise up through the floor.

Install Preferred Final Flooring

Once your concrete floor has been covered with FloorFoam, next you can install your desired flooring. Wood & laminate flooring can be installed directly on top of FloorFoam. We recommend to use a carpet underlay prior to a carpet being installed. If a vinyl or lino is being used, we would advise the use of a plywood over the top of the FloorFoam.
expand_circle_down Reviews
expand_circle_down Specification
| | |
| --- | --- |
| Length | 10m |
| Width | 1.5m |
| Thickness | 15mm (5mm Compressed) |
| Roll Coverage | 15m² |
| Layers | 6 |
| Weight | 5.5KG |
| Core R-value | 0.93m²K/W |
| Roof R-value | 1.83m²K/W |
| Wall R-value | 2.27m²K/W |
| Floor R-value | up to 5.56m²K/W |
| Foil Emissivity | 0.05 |
| Water Vapour Resistance | 600MNs/g |
expand_circle_down Q&As
Do I need to insulate the floor?
Performance wise it is recommended to insulate the floor using our EcoTec FloorFoam which is also available in this kit. If you're using your garage for cars, or heavy machinery and it gets a lot of wear and tear you should use some plywood over the top to prevent damage to the insulation. There is also the option to not insulate the floors if you don't feel like it's needed.
Do you need to board over the floor and walls?
This is something that's completely up to you if you're wanting to insulate your garage so it can be used as an extra room, and you don't want to see the silver insulation you can. Boarding over the insulation can help to protect it from any damage. For the floors, dense rubber matting is a great choice because it's made for heavy machinery and can take a lot of weight. However, you do not need to board over the insulation.
Do you need to use battens, or can you install the insulation directly to the wall?
The insulation works by expanding into the open space behind the battens and trapping warm air inside. You will still gain benefit from applying it straight to the wall, but the performance won't be as good as installing it with battens with a 25mm gap. You would expect to lose 20% performance from removing an air cavity.
Do you need to tape and seal the insulation?
Yes, we would always recommend taping and sealing the insulation this will stop any draughts from entering the garage and prevent warm air from escaping. When our products are taped, they will work as Vapour Control Layers, reducing condensation.
Is it suitable for all year-round use?
Insulating the roof and wall would be suitable for all year-round use. Having a heat source in the garage would allow for comfortable use in the winter.
Can I cut the insulation?
Our products can easily be cut with a cutting knife or a large pair of scissors. EcoQuilt Expert is a multi-layered insulation, however it has kimbles which keeps all layers together when cutting.
expand_circle_down Data Sheets
Size Calculator
Instantly find out which kit you need for your garage!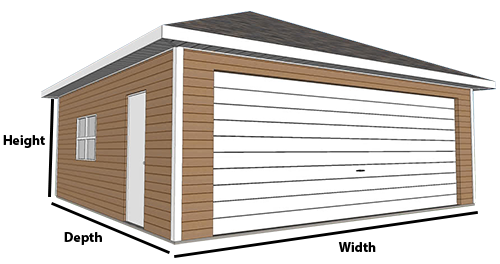 Walls & Roof
Area to be Insulated: -m2
Roof and Wall Size: -m2 Kit
Floor
Area to be Insulated: -m2
Floor Kit Size: -m2 Kit
Order Your Kits Now!
Key Features
DIY Garage Insulation Kit
Thin, Flexible and Easy to Install
Roof & Wall Insulation equivalent to 50mm Rigid PIR (Celotex)
Vapour Control Layer Built In
Suitable for pitched and flat roofs
Fitting Equipment Included
Contains no harmful or floating fibres
UK Manufactured Insulation – Ecohome Insulation
No Harmful Fibres
No protective clothing required when insulating