SuperQuilt Timber Frame | YBS SuperQuilt
SuperQuilt Timber Frame
YBS SuperQuilt is commonly installed to the internal side of your timber studs. It is then common to install timber studs and plasterboard.
Our Timber Frame Insulation Kit has been proven to save labour time, space and cost. It is most commonly used to the internal side of timber studs before the plasterboard, incorporating a high performance vapour barrier.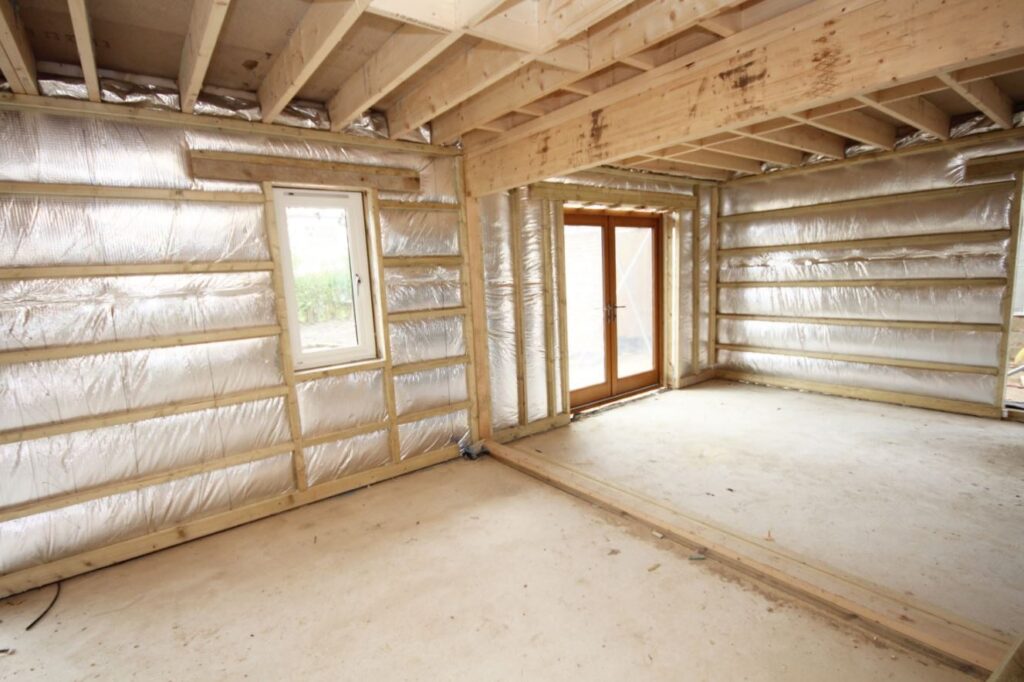 SuperQuilt Timber Frame | YBS SuperQuilt and YBS BreatherFoil FR are often used in conjunction to satisfy building regulations. By installing these products, they incorporate a vapour control layer and also a built in breather membrane. This means it reduces the amount of materials required and purchases too!
SuperQuilt Insulation is installed internally, it can be stapled directly to the internal side of timber battens or studs. When installing, ensuring that the staples are applied at minimum intervals of 300mm. You can install the SuperQuilt either horizontally or vertically, dependent on what method works best for your project.
When installing your second layer of SuperQuilt ensure that it is overlapped by 50mm. You should then tape and seal all over the overlaps with our True Aluminium Thermaseal Foil Joining Tape. This tape should also be applied around the perimeter.
You should then install timber counter battens, perpendicular over the SuperQuilt Insulation. These should be a minimum thickness of 25mm deep. Finally, plasterboard or internal finish should be installed in it's usual manner.
Externally the YBS BreatherFoil FR should be installed. This will sit on the external side of the timber frame. It will go directly onto the plywood sheathing board.
The advantages of using BreatherFoil in the timber frame alongside YBS SuperQuilt are as followed;
Greatly improves U-value
Takes up very little depth so you can maximise the space
2 in 1 Breathable and Insulation Membrane – saves you on cost of the materials as a standard breather membrane no longer required
Wind tight
Draught free system – that protects the timber frame and insulation
Fire Retardant True Aluminium External Layer
We have created a Timber Frame Kit.  This kit includes both YBS SuperQuilt and YBS BreatherFoil FR, along with Thermaseal Foil Joining Tape, Free Heavy Duty Staple Gun (If 2 x Packs are purchased) & Free Delivery.
You can purchase this Timber Frame Insulation Kit by  clicking here . To view our Timber Frame Kit promotion page click here.
Installation of SuperQuilt for Timber Frames should be in harmony with the manufacturers certificate and recommendations.