SuperQuilt External Wall | YBS SuperQuilt
SuperQuilt External Wall
SuperQuilt Insulation is BDA and LABC certified for insulating the external of a solid wall.
Many people insulate with YBS SuperQuilt externally – as it is a cost effective solution and keeps the thickness to a nominal thickness when insulating the external side of the solid wall.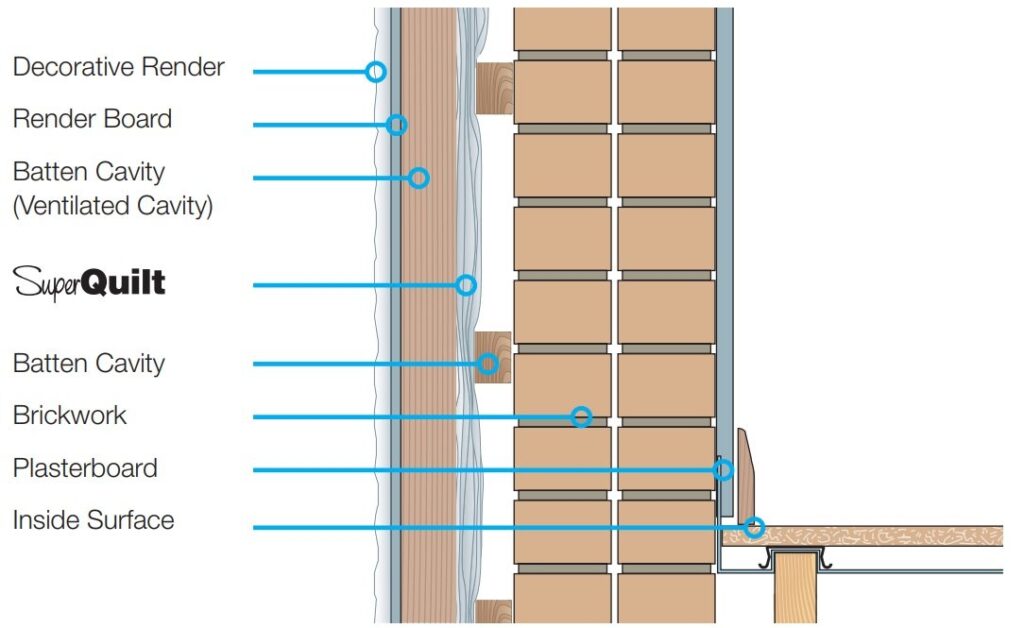 How to Insulate your External Wall with SuperQuilt
Install timber battens directly on to the wall horizontally, leaving a 500mm space between each. These should be installed around the perimeter and also directly around the windows and the doors.
Next, staple the YBS SuperQuilt directly on to the battens – you can roll the SuperQuilt Multifoil either vertically or horizontally. When you are ready to install your second layer of SuperQuilt, ensure you overlap by 50mm. You should ensure each layer is overlapped in this way. When the insulation has been stapled, follow by using our Thermaseal Foil Joining Tape and Taping and Sealing around the perimeter and around all of the joints. By taping and sealing, you will have created a high performing vapour control layer – this in turn will reduce and control the risk of condensation building up internally.
You should then proceed by installing your secondary set of battens. These should be installed vertically – leave 500mm between each. This will effectively sandwich the SuperQuilt between the two sets of Battens. We advise that you use treated timber battens, as they are likely to be exposed to elements and this will effectively reduce the risk of rotting.
The carrier board is fixed over the product and onto the battens, the external rendered finishing should comply with BS EN 13914-119. If a render board is being used, please ensure ventilation is created in the cavity between YBS SuperQuilt and the render board.
If you would prefer to insulate internally, feel free to have a look at this insulation solution – by pressing here on our Dry Lining page.
Do you require a Bespoke U-value?
If so you can visit our trusted distributors website, they have a free and instant online U-value Calculator. Alternatively request a U-value calculation from our technical team at the Contact Us page.
Installation of SuperQuilt External Wall | YBS SuperQuilt should be in harmony with the manufacturers certificate and recommendations.