How to Install BreatherQuilt, on Pitched Roofs
How to Install BreatherQuilt, on Pitched Roofs
In this post we highlight the key benefits of installing BreatherQuilt and follow by advising 'How to Install BreatherQuilt, on Pitched Roofs'.
Whether you are undertaking a refurbishment or completing a new build, BreatherQuilt is the perfect solution for use on on the external of Pitched Roofs. BreatherQuilt is highly regarded due to its reflectivity and breathability. It is fully certified for both refurbishments and new builds, and it will assist in achieving U-Values in less space cost and installation time, compared to using traditional insulation and is higher performing and less cost than TLX Gold.
BreatherQuilts Key Features
It is made up of 11 perforated layers, that allow moisture to escape.
It is fully waterproof and weather tight.
Its most internal layer is made from True Aluminium Foil, which reflects 95% of radiant energy back into your home.
It is 40mm at a relaxed thickness, but compresses to just 7mm when installed, so saves on valuable space.
Equivalent to approx. 65mm of Polystyrene.
It is a superior alternative to TLX Gold, both in terms of its performance and cost.
Manufactured in the UK.
LABC Registered.
BDA Agreement Certified.
Built-in Double-Sided Tape, for horizontal overlaps – faster installation and less additional materials required.
To purchase BreatherQuilt online at the lowest trade prices Click Here!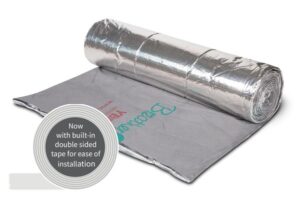 Now you know BreatherQuilt is the right product, how do you Install it?
See below instructions, followed by an informative How-To Video to assist you.
Lay BreatherQuilt horizontally across your roof rafters
Staple in place, at 300mm intervals
You can cut the edges easily, using a pair of multifoil scissors
The multifoil scissors can be purchased as part of a fitting kit we offer that includes: Heavy Duty Staple Gun, 5,000 14mm Staples, Cutting Knife, Blade Sharpener, Multifoil Scissors
Once installed, you can proceed installing your tile battens
Complete with slate or tile finish
If you do require any further assistance please do not hesitate to contact us, via our Contact Us page, where you can place a Call Me Back and one of our team members will call you within 1 hour!
Alternatively, you can see what U-Value you can achieve using BreatherQuilt on your own Roof – You can use our Free, Easy to use, Online U–Value Calculator. This calculator can assist with Roofs, Walls and Floor projects and with over 1,000 Calculations we are sure to have a solution to suit your individual needs!
Purchase BreatherQuilt Online at the lowest trade rates here! If ordered before 2pm, you will receive Next Day Delivery.
trending_flatBack to News