Case Study – Creating a SuperQuilt Curtain to Transform a Warehouse
Case Study – Creating a SuperQuilt Curtain to Transform a Warehouse
If you are interested in understanding how our customer transformed their workspace with a SuperQuilt curtain, or if you have a similar project, keep reading…
This insulation project took place in an old farm barn in South Yorkshire. It is now being used as a workshop in one side and in the other side, a warehouse to store their products.
The barn is susceptible to heat loss due to there being no insulation in the building. This was making it hard for them to work during the colder months, so they decided that they needed to properly insulate the building to create a warm workshop. In addition to this, on hot summer days the workshop also became unusable due to the heat. To get the most out of their space, they decided to split the building into two and they did this by using our SuperQuilt insulation to create a SuperQuilt Curtain and with a retractable door.
They decided that in the long term, insulating the barn would be both beneficial to their working conditions and financially as it would become more thermally efficient due to reduced heat loss. After doing their research, they found that the most fitting product would be the SuperQuilt, as this is the highest performing certified Multifoil on the market. With this they made a SuperQuilt curtain with a retractable door using our handy step-by-step 'How to' guide.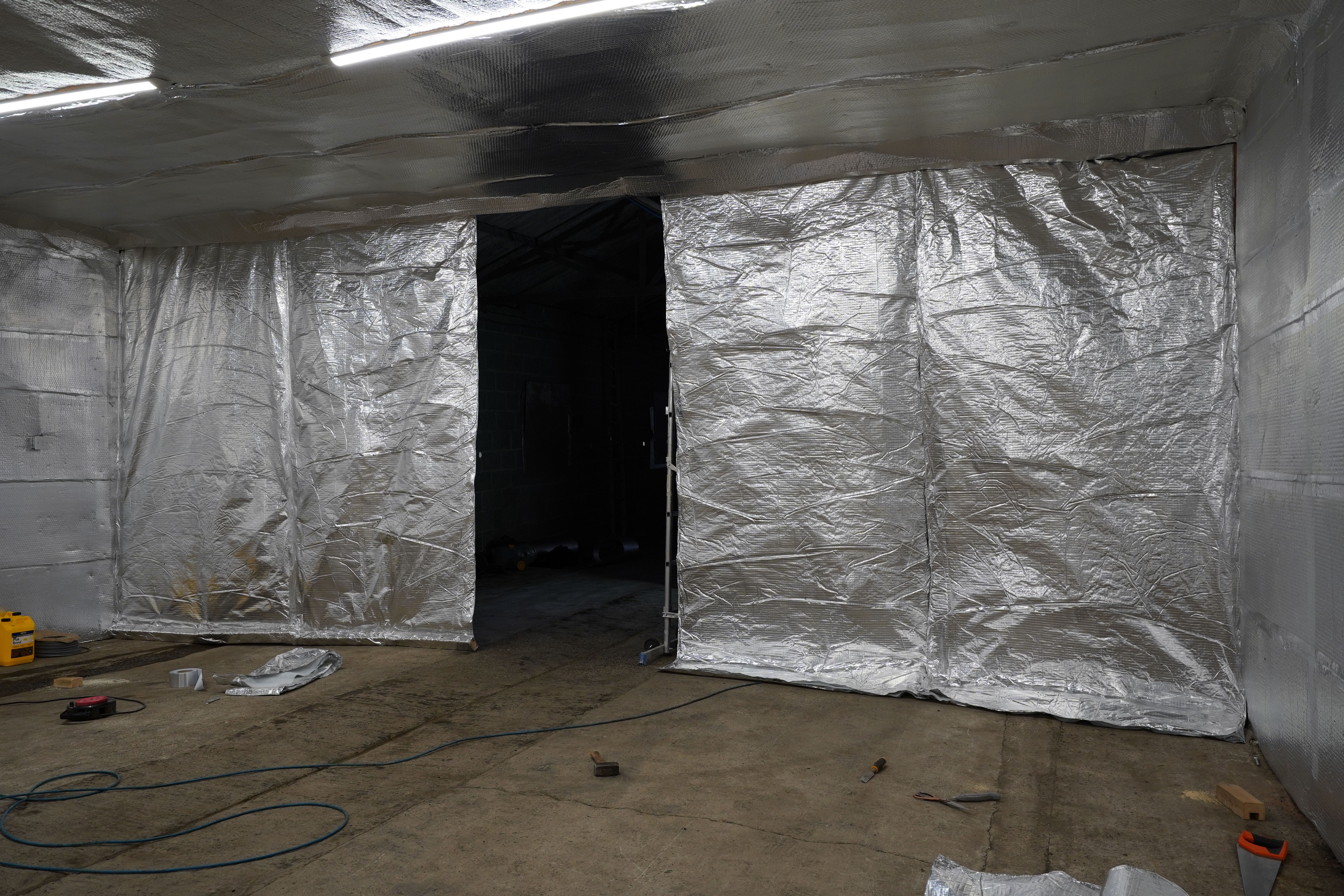 Above is an image of the SuperQuilt Curtain in the application process. As you can see, the curtain is positioned, all that it's waiting for at this stage is the retractable door & some more ThermaSeal Joining Tape to seal it together.
YBS SuperQuilt is ideal to create a curtain from as it is flexible and can easily be moved up and down. It actively works to prevent draughts, it retains heat and also keeps the cold out. In the summer moves, this will do the opposite and reflect excess heat away from the building keeping the workshop at a comfortable temperature all year round.
Our customer and his colleague installed the curtain together, they said they found the assistance from the guide made it a fairly easy application and said that it took them around 3 hours to complete.
Our customer said…   "The barn was impossible to heat up before but now we can just put the space heater on for 10 minutes and the whole warehouse warms up. Before we had the curtain, we often had the cold and wind blowing through, but it stops that. It also keeps sound contained inside the warehouse, which is great as there are other buildings surrounding ours."
By transforming a few rolls of YBS SuperQuilt to the SuperQuilt curtain, they have been able to create a type of partition wall which has resulted in their goal of having a smaller workspace that requires heat. It is helping them to save from unnecessarily heating a whole warehouse which is ultimately saving on energy bills.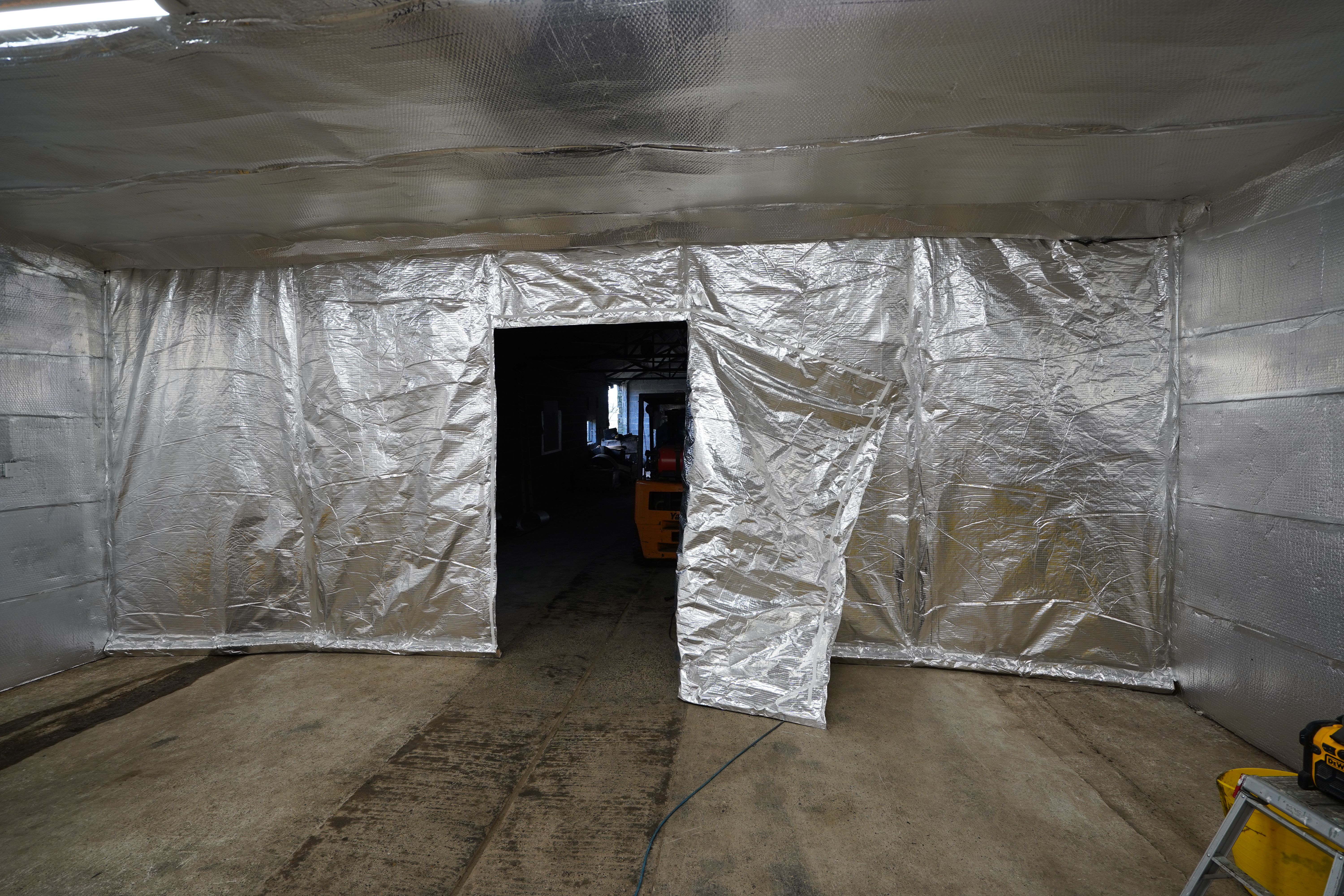 The warehouse has been insulated for over a month now and they are incredibly happy with how the whole process went, from picking the right material to the aftereffects they are experiencing now. They found:
Installation using the

'How to'

guide easy to follow
Their whole workspace warms up within 10 minutes
Keeps the warmth inside for hours and the cold out
Keeps wind and draughts out
Prevents rain noise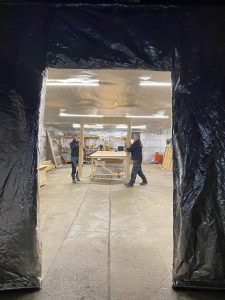 If this application sounds like something you'd be interested in trying yourself, below is the link to our SuperQuilt product page, along with our 'How to' guide LINK:
SuperQuilt – The World's Highest Performing certificated Multifoil the market.
Purchase individual rolls HERE at the lowest trade prices!
The most economical way to purchase our SuperQuilt is on our Trade Pallets – Click HERE to purchase!
'How to create a SuperQuilt Curtain' handy guide
Would you like any more technical advice? Let us help!
Feel free to Request a Call Me Back or send an Enquiry and one of our dedicated team will get back to you within 1 hour.
Oh, and don't forget! Order before 2pm to get next working day delivery to anywhere in the UK Mainland!
trending_flatBack to News