SPC-LUX Flooring
expand_circle_down Description
SPC-LUX Flooring – Available Now!
Our affordable SPC-Lux Flooring recreates the authentic beauty of real wood. Its unique, classy and will be a cause for conversation. Its multi layer construction means it has all the features required to make it the perfect flooring, for both commercial or residential properties alike.
SPC-Lux is a premium flooring for both the trade and homeowners!
Why Our SPC-LUX Flooring?
SPC stands for Stone Polymer Composite. Our Luxury SPC Flooring mainly comprises of limestone. Its 100% Waterproof, durable and Stylish. Its stain, indentation and high scratch resistant, with an anti-slip and UV Coating.
We understand selecting flooring can be a challenge, as there are so many options – that differ in both price and quality. This is why our team of construction experts have worked tirelessly alongside manufactures, so we can provide you with what we believe is the perfect, hardwearing, affordable flooring product.
We have done the research for you – as there are different grades of SPC. Our luxury range of SPC Flooring is the highest quality guaranteed, which is backed by our trusted manufacturing partners. It is the next generation of luxury vinyl tiles, more durable than traditional LVT, Laminate and alternative SPC products.
Choose from our stunning range of 7 colours.
5 Star TrustPilot Reviews – Rated as Excellent.
Expert Advice Pre and Post Order
How to Guides and Videos to Assist you.
Next Working Day Delivery on all orders to the UK*
Installation Service Available
Samples available HERE
Useful Flooring Calculator
Ready to check how many packs you need? You can use our easy to use Calculator! You can add rooms to assist you in picking the correct quantity.
In our calculator, we have allowed 10% for wastage and offcuts.
Each Flooring Pack Contains 9 Planks and Provides 2m².
6 Pack minimum order. 
You can view our Brochure Here for more information on this product and to have a look at your colours.
Our How-to Video will also assist you with the install!
Recommended Underlay
With SPC-Lux Flooring, we recommend using our highly reflective insulating underlay, EcoTec Floor-Foam, if you are not installing Underfloor Heating.
EcoTec Floor-Foam is a 4mm dense foam membrane with a reflective true aluminium foil both sides.
You can simply staple this down on timber floors, or fix this down on Concrete with Thermaseal Double Side Tape. Following the fixing, you can simply install SPC-Lux Flooring over Floor-Foam.
Floor-Foam makes it will much warmer under foot, which works extremely well in conjunction with our premium SPC flooring.
See link to purchase EcoTec FloorFoam – CLICK HERE!
If you are installing Underfloor Heating underneath the SPC-Lux we recommend to use our QuietWalk Underlayment.
If you have any queries at all or would like a quote for the installation, just Get in Touch by submitting an enquiry HERE
*Next Day Delivery applies to orders placed before 2pm being delivered to the UK Mainland (Excluding Highlands and Islands).
expand_circle_down How-To Videos
How To Install the SPC-Lux Flooring Kit
Installing the SPC-Lux Flooring System is easy by following this brief video. Reduces energy bills in just 9mm depth. Why choose inferior products such as Laminate and LVT again?
SPC-Lux Insulated Flooring Kit - Reduce Energy Bills In Just 9mm!
The future of flooring, now available to the UK! Why use inferior products such as Laminate and LVT again?
expand_circle_down How-To Guides
SPC-Lux Flooring Installation Guide
Measure the area of the room

Once EcoTec FloorFoam is installed use a tape measure to measure the the total area of he room, You should measure the width and length.

Where to start installing SPC-Lux Flooring

You should begin laying SPC-Lux Flooring in theback corner of the room. We recommend starting will a fullboard and cut the final piece of the run down to size. This will create a scattered pattern.

How to cut SPC-Lux Flooring

We have provided a Set Square and Knife with the SPC-Lux Flooring Kit to ensure you create a perfect straight edge. Score a straight line with the Knife and Set Square then you can simply snap the board. Installation Tip: Do not cut a board directly on top of a board that has already been laid, you can risk scraping it. You can cut it in another area of the room or use an unused board as a base to work on.

What is the UNILINC Locking System?

SPC-Lux Flooring boards have been designed with the UNILINC Locking System that simply click together. You can feel the boards click into place this makes installation much easier.

Mallet and Tapping Block

Your kit also includea a Mallet and Tapping Block to ensure each board us secure. The Maller is rubber and will not damage the SPC-Lux Flooring

How to fit SPC-Lux around corners

There is a Profile Gauge in the kit, this replicates shapes of doorways and other tricky shapes. This will allow you to replicate the same shape on the SPC-Lux Flooring. You simply push the Gauge against the shape you're wanting to recreate and mark the shape on the flooring board. This shape can be cut using a jigsaw.

Pull Bar

When you get to the edge of the room you can use the Pull Bar to ensure the flooring is secure and the the UNILINC System is in place. You can go all around the perimeter of the room using the Pull Bar in conjunction with the Mallet.

How to fit SPC-Lux around radiator pipes

If you're fitting SPC-Lux Flooring around radiator pipes use the Profile Gauge and push it against the radiator until halfway and draw this shape on the end of a board. Do the same with the board placed on the other side of the radiator pipe. Use the jigsaw to cut the shape out and slot each piece of the flooring around the pipe and it should slot into place. You can finish this off with pipe covers.
expand_circle_down Reviews
expand_circle_down Specification
| | |
| --- | --- |
| Thickness | 5mm |
| Pack Size | 2m2 |
| Product Type | Stone Polymer Composite |
| Groove | V Groove |
| Size Per Plank | 5mm x 1220mm x 182mm |
| Planks Per Box | 9 |
| Residential Warranty (Years) | 35 |
| Residential Warranty (Years) | 15 |
| 100% Waterproof? | Yes |
| Slip resistance? | EN13893 |
expand_circle_down Q&As
What is SPC Flooring?
SPC Flooring is Stone Polymer Composite. It is changing the future of flooring. Our SPC is predominantly limestone and is a hard wearing compound. Its multi layer construction includes a UV Coating, a Transparent Wear Layer a Decorative Film Layer and a Core Layer.
Where can I Install SPC Flooring?
It's versatile, so it can be installed in any room in your home or commercial premises.
Is SPC better than Laminate?
Laminate is made from MDF and is generally thicker however is not as sturdy as SPC. In addition, SPC is 100% waterproof, and some laminates are water resistance, but not waterproof.
Is SPC Pet Friendly?
Our SPC can be enjoyed by you and your pets. It is super scratch resistant and also indentation resistant too.
What happens if I accidentally drop chemicals?
The double UV coating that is built in provides the SPC with high resistance. This means you can grab a wet mop and wipe any accidental common stains away.
How environmentally friendly is SPC?
SPC is 100% Recyclable - it is made up of virgin polyvinyl chloride and natural limestone powder - both materials are very sustainable and can be recycled.
Will the Flooring be OK with direct sunlight?
Yes - it has a double UV Coating which provides resistance from direct sunlight, which will protect against fading.
expand_circle_down Data Sheets
expand_circle_down Flooring Installation Service
We understand that not everyone has the time or ability to install their own SPC-LUX Flooring. This is why we have a team of trusted installers, that can fit your flooring for you.
Simply fill out the below short form and we will send over your free, no obligation quotation.
Size Calculator
Instantly find out how much flooring you require for your project! Enter your room dimensions.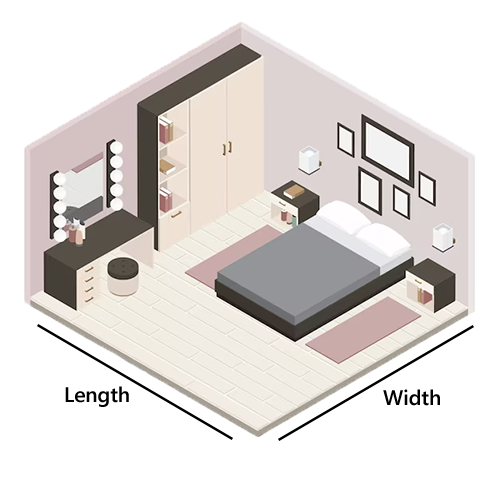 + Add another room's dimensions
Area to be Covered: m2
Packs Required (2m2 Each):
Please note we account for 10% wasteage in the calculation.
Key Features
Anti-Slip textured surface
100% Waterproof
Choose from 6 Stunning Colours
Pet Friendly
Fire Retardant
100% Recyclable
Suitable with EcoTec FloorFoam
Stable under all temperatures
Authentic Real Wood Look
35 Years Residential Warranty
15 Years Light Commercial Warranty
No Toxins or Gasses Emitted
100% Compatible with Underfloor Heating Systems
Free Delivery to anywhere in the UK Mainland
Installation Service Available (Midlands) Enquire